So They Buy Billboard To Show Their Allegiance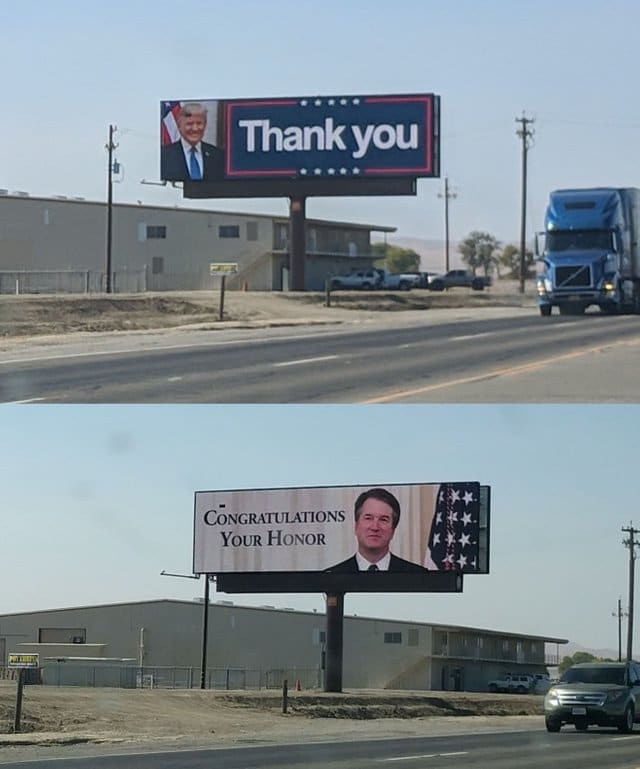 Looks like the red wave is building – Liberals never thought they would see these images on a billboard in California.
With all the bad news coming out of the Golden State, some readers might not realize that there are more than a few patriots in California.
They are often dismissed, silenced, and ignored. Liberals in California gang up on Republicans, pushing their toxic programs through. Even when many in the state are against them.
Since Donald Trump took office, enthusiasm among conservatives has only grown. Americans are excited to see the president winning again and again for the country.
That's true even in "blue" California. Fed up with the terrible leadership of Maxine Waters and Nancy Pelosi, a group of California residents made a big display to show their support of Trump.
SHARE if you love these billboards!
That community is 65% Latino Americans. Mostly farmers. They have benefited big, thanks to Trump's economic policies.
American farmers have struggled for many years, thanks to economically toxic policies from Democrats.
Democrats hate proud, land-owning Americans. They want all properly (and produce) controlled by the federal government. So, they've crippled American farmers with heavy regulation, taxes, and limitations.
Even in blue California, farmers are prospering. That includes numerous Latino Americans, who refuse to accept the left's attacks on Trump.
You better believe this massive billboard ticks off more than a few Democrats in that community!
This is yet another sign that November will be a massive win for Republicans.
The mainstream media won't spread these pictures. They don't want Americans to know this great story.
SHARE this article if you want to tick off a liberal!
Share your thoughts with the world by posting a message on the Liberty Tree.
One of the penalties for refusing to participate in politics is that you end up being governed by your inferiors.
-- Plato (429-347 BC)
TRY THE LIBERTY TREE
AD FREE
"FIGHTING FOR FREEDOM AND LIBERTY"
and is protected speech pursuant to the "unalienable rights" of all men, and the First (and Second) Amendment to the Constitution of the United States of America,

In God we trust
Stand Up To Government Corruption and Hypocrisy
NEVER FORGET THE SACRIFICES
BY OUR VETERANS
The Patriot
is a non-partisan, non-profit organization with the mission to Educate, protect and defend individual freedoms and individual rights.
Support the Trump Presidency and help us fight Liberal Media Bias. Please LIKE and SHARE this story on Facebook or Twitter.
TOGETHER WE WILL MAKE AMERICA GREAT AGAIN
!
Join The Resistance and Share This Article Now!
TOGETHER WE WILL MAKE AMERICA GREAT AGAIN!
Help us spread the word about THE LIBERTY TREE Blog we're reaching millions help us reach millions more.
‼️️ ♻️

PLEASE SHARE

♻️ ‼️️
Please SHARE this now!

The Crooked Liberal Media will hide and distort the TRUTH.

It's up to us, Trump social media warriors, to get the truth out. If we don't, no one will!

Share this story on Facebook and let us know because we want to hear YOUR voice!
Facebook has greatly reduced the distribution of our stories in our readers' newsfeeds and is instead
promoting mainstream media sources.
When you share with your friends, however, you greatly help distribute our content. Please take a moment and consider sharing this article with your friends and family. Thank you